Affordable Tent Hire for Your Event Anywhere in South Africa
Affordable Tent Hire for Your Event Anywhere in South Africa
Irrespective of the type of function you wish to host, making use of our tent hire services will help you to create the perfect space to host a seamless event. We will deliver the tent and function equipment to your doorstep or the venue of choice anywhere in South Africa. We provide our services in a range of 500 km from Johannesburg, but have long-standing partnership arrangements with various companies throughout the country to ensure that we can meet your tent hire requirements wherever you plan to host the event.
Contact Us on 087 944 8840 to get a Quote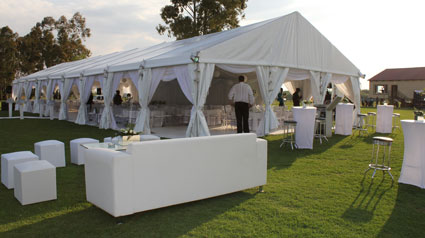 Want to find out more about our Tent Hire Options?
Request a Call Back and one of our friendly staff members will contact you to assist.
We specialise in the provision of frame, Bedouin and marquee tents for events whether for birthday parties, weddings, engagement parties, product launches, book sales, anniversaries, music festivals, beer gardens, plant exhibitions or tradeshows. We have the tent for you whether it is a small event with only a few guests or a large event where you need to cater to 2000 guests at a time. Apart from the tents, we supply banqueting equipment, flooring, catering equipment, cutlery and tableware, as well as draping for décor. Dine By Design Catering is our own catering team and they will address your culinary requirements where needed.
With a full project team on board, we can supply the tents or handle the setup of the entire function area including décor and handling of the catering functions.
Our Tents
The aluminium frame tents are stunning in design. With lightweight frames requiring no additional peg and pole securing, the tents can be setup in small spaces, near walls and on wooden decks. These tents are especially well-suited for corporate functions with their sophisticated appearance. Featuring brilliant white canvasses with numerous décor options, the frame tents are also waterproof. As such, come rain or come shine, your event can be hosted. We offer you special plastic flooring options to provide a professional appearance and stable surface. The contemporary designs are well-appreciated by even the most discerning décor specialists. Of course, with such designs the tents are also suited for weddings and engagement parties.
The Bedouin tents are extremely popular when it comes to music events, wedding functions and sponsored days. The UV resistant canopies provide complete protection against the sun, while the waterproof nature of the canopies ensures that the tents can be used in rainy conditions. The canvasses are also fireproof, which is extremely important for the safety of guests. What makes the tents so popular is the unique layouts and design possibilities they offer. The tents are free-form, which gives you more options when it comes to customisation of your layouts. With the canopies being able to stretch to the ground you also benefit from adequate wind protection.
The tents can be erected on just about any type of terrain, making them suitable for events hosted in the countryside. You furthermore have the choice between partially or fully enclosed to create the designed atmosphere for your particular function. Due to their unique setup the tents can be used indoors or outdoors for functions such as weddings, private parties or to showcase specific products or services.
The marquee tents are the traditional peg and pole tents with PVC canvasses and central poles, secured with pegs and guide ropes. These tents feature the classical design and because of their stability, can seat many guests at a time. Setting up of these tents takes longer, but if you are after a romantic, stylish and classical look, the marquee tents are for you. With ample space, side panels and various ventilation options, the marquee tents are also well-suited for church gatherings, political meetings, voting stations, bazaars, beer gardens and weddings. We have tents for any size event. Some of our marquee tents can seat up to 2500 guests, while we also have small function tents for 10 or 20 guests.
Need help with your event?
Why Make Use of Our Services?
We offer expert guidance regarding the right size tent for the particular function and number of guests. Likewise, we will assist you with enough information to help you make an informed choice among the frame, marquee or Bedouin options. Our service offering is comprehensive and includes the delivery, setting up and disassembling of the tents. In addition, we can provide in all your function hire and catering equipment needs. Our professional catering team is available to assist in menu planning while you can also rely on our décor expertise. Contact us for affordable and reliable tent hire services throughout South Africa.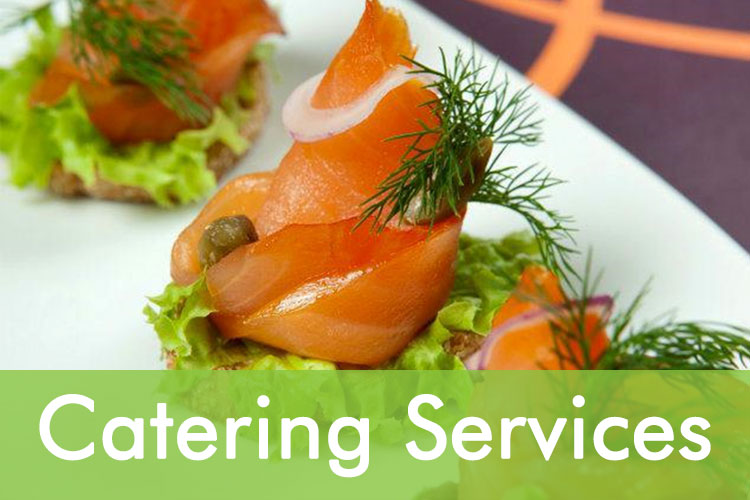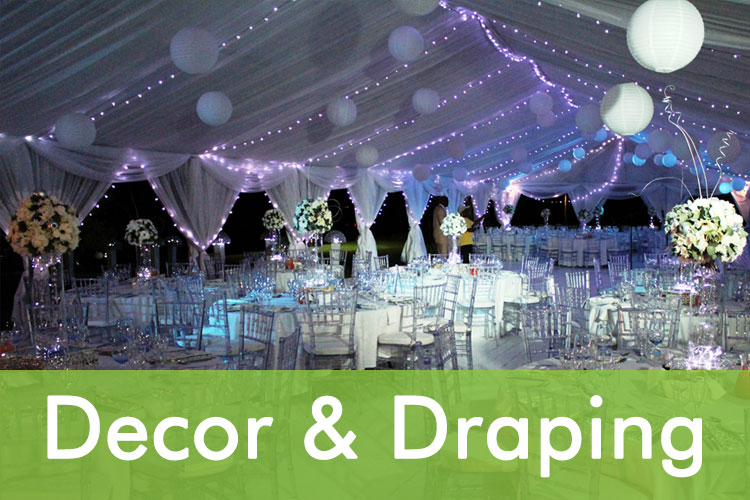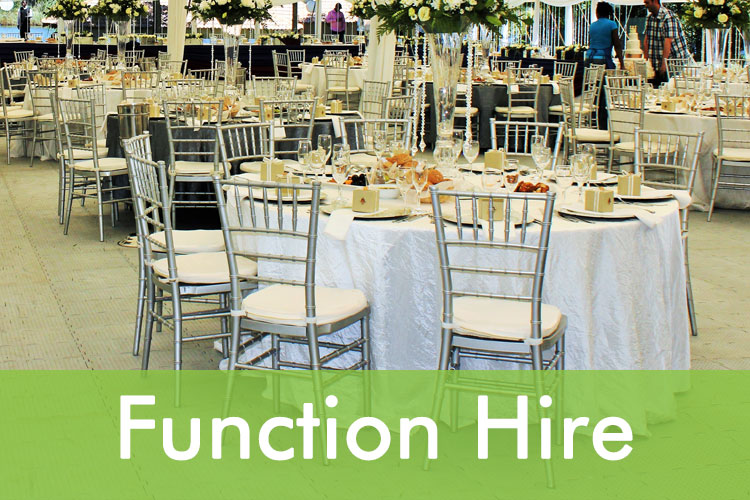 Want to find out more about our services?