Function Hire Checklist for Outdoor Tented Events
Function Hire Checklist for Outdoor Tented Events
Whether for a wedding, matric farewell or a corporate event, having the assurance that professional function hire services are available, makes it easier for you to plan the event and to minimise costs, especially if one company is able to provide everything that you need to host a stunning event.
Contact Us on 087 944 8840 to get a Quote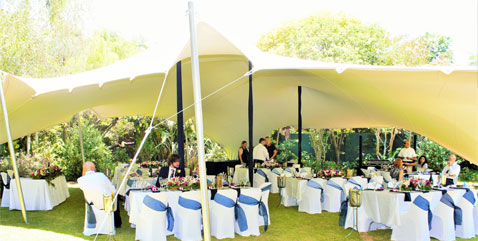 Want to find out more about our Tent Hire Options?
Request a Call Back and one of our friendly staff members will contact you to assist.
We've provided a checklist below regarding requirements for an outdoor function in a Bedouin, marquees or frame tent.
Outdoor Function Facilities
Water source availability – distance, type, potable/not, location and pressure.
Power source – 220V from Eskom, 3-phase or single phase/generator/solar.
Availability of tents – sizes and types, such as marquees, Bedouin or frame.
Contact person at the facility.
Function hire company contact details.
Emergency services contact details.
Site plan – also indicating the elevation/level of the surface.
Types of surfaces available for erection of a tent.
Size of surface area.
Possible obstacles to vehicles transporting equipment.
Access to the function site – arrangements.
Catering company details.
Disability facilities on site.
Kitchen on site or is a mobile catering kitchen required?
Permits and licenses needed for hosting of a specific function at the venue.
Any height restrictions.
Availability of the venue for setup and breakdown of the tents.
Parking facilities – where, space available, charges and security.
Parking attendants and management details.
Restrictions that apply regarding pegs in the ground.
Emergency evacuation procedures.
Provision for rain – stepping stones, additional canopy and side panels.
Ablution facilities – how many, where and neatness.
Security needs – personnel, police numbers and armed response where relevant.
Medics required – depending on type of function.
Any noise restrictions – Sunday, after 23h00 or at any time.
Flooring needs, such as dance floor and event surface.
Stage equipment needed.
Audio-visual equipment required.
Tables and chairs – types, total and arrangement.
Linen for tables.
Flowers needed.
Tableware requirements – total number, supplier and arrangement.
Cutlery – types and total required.
Glasses and plate requirements.
Décor – supplier, setup time, type, such as draping and lights.
Light requirements.
Sound equipment for music.
DJ box where relevant.
Storage space availability on site.
The above are 40 points to consider when setting up a function outdoors. Fortunately, when you make use of TentWorx function hire services, we work with you to determine many of the above points and provide the function hire equipment and services of:
Tents (Bedouin, marquees and frame in all sizes for small and exceptionally large functions).
Cutlery, linen, glasses and tableware.
Décor and specialists to handle the décor.
Lights.
DJ booth, dance floor and event surfaces.
Tables and chairs.
Stage for indoor usage in tents.
Expert guidance regarding the requirements for the tents.
Table seating plans.
Stunning food and beverages according to the function.
Staff for the serving of food and beverages.
Need help with your event?
We provide our services mainly within a 500km radius from Johannesburg, but in association with trusted partners are able to provide our services in other provinces as well. Our teams are professional and have done numerous world-class events. That being said, we also cater to small function hire needs, such as birthday parties, anniversaries, engagement parties, 21st parties and smaller year-end functions.
Contact us today for a quote and professional assistance on function hire equipment in South Africa.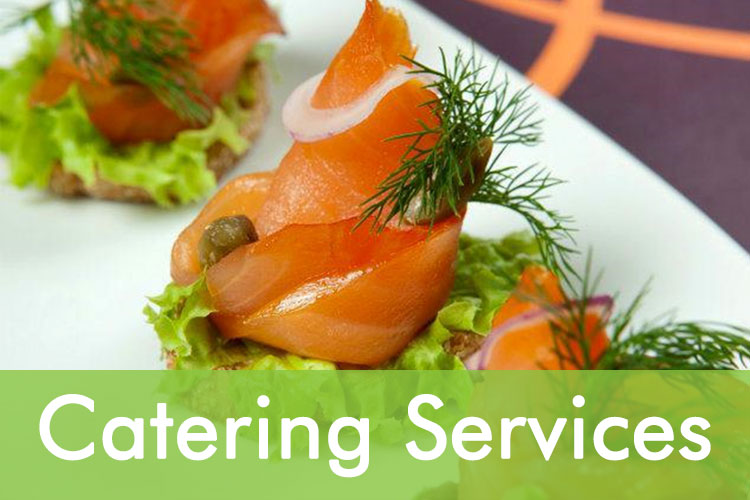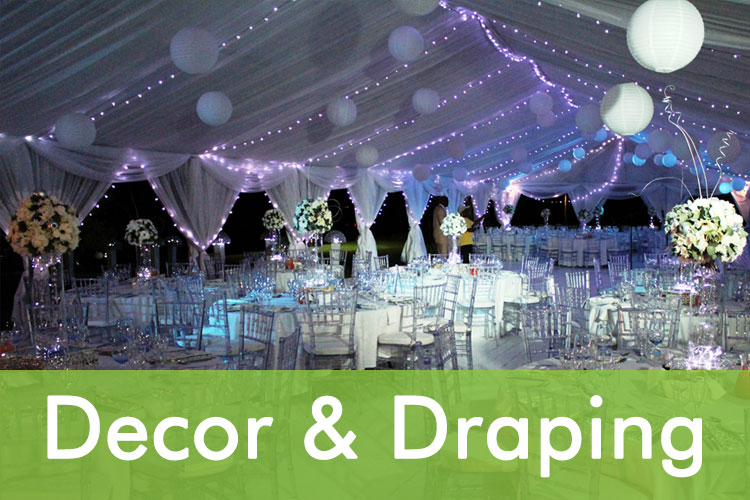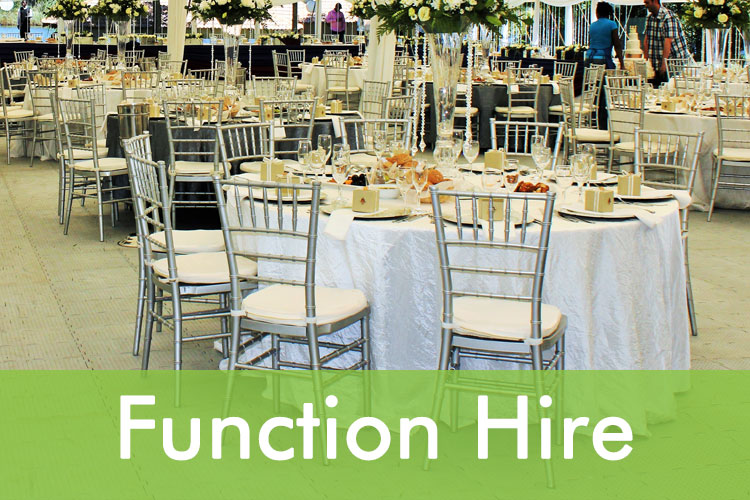 Want to find out more about our services?